The duo has been friends since middle school, and decided to take their days of making music in their moms' living rooms when they were younger, to creating for a wider audience.
Starting in 2017, they made their talents known.
"Once we realized what we wanted to do, it was all about staying transparent and believing in ourselves," Wyatt said. "We never really focused on the numbers. We always focused on the craft and being as creative as possible."
"People gravitate towards something that they can relate to, and feel like it's real," Wyatt said. "We put so much priority towards that, that eventually it just started to translate."
Their creative process is rooted in their friendship, too. They write their lyrics and music together. If one of them writes a piece, the other will break it down, and they'll make any changes together. They operate through their tight and cohesive relationship, with no ego involved. They strive to have fun together and be as creative as possible.
Through working with fellow artists and influencers – they've performed alongside 21 Savage, Juice WRLD and Rick Ross – they moved their way up and through the industry by just being themselves.
Even their name, 3Fortiori, shows that notion.
3Fortiori's Name And New "At The Door" Music Video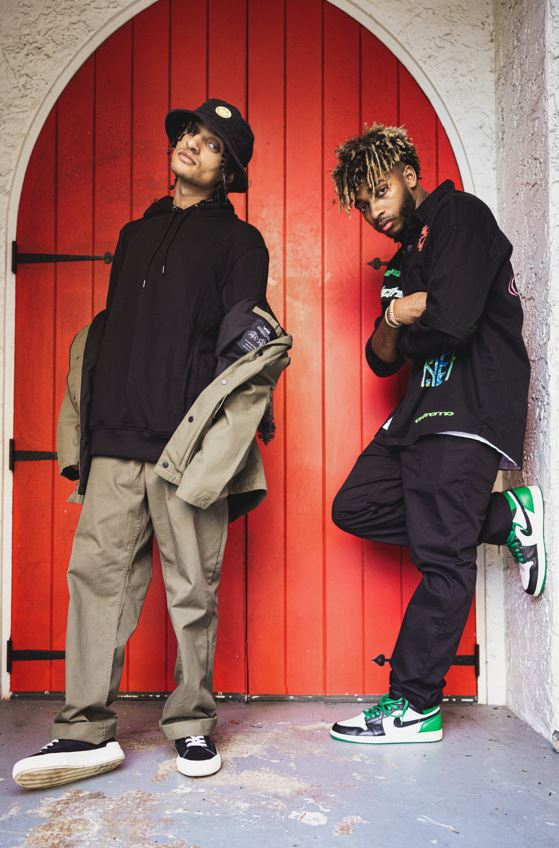 According to the friends, fortiori is a Latin word for "stronger together." As a duo, they portray themselves how they want to, unapologetically.
The "3" comes from the three pillars they keep at the forefront of their music career – music, fashion and influence. They believe style is an important way to reveal their personalities and mindsets, and it changes every day.
They represent their distinctive styles in two of their music video drops released this year.
In "Jump Out The Flame," Feek and Wyatt are rapping amongst flame throwers in a parking lot, while they're wearing all black on a white background in their "Start Me Up" music video.
Their latest music video releasing this Friday for "At The Door" is an 'in-the-moment' type of video, with them exploring Houston on a grainier background, which the duo calls, "more grungy and hand held."
Aside from their latest music video dropping this Friday, they also have a new six-track EP with the same name releasing this Friday.
3Fortiori's New At The Door EP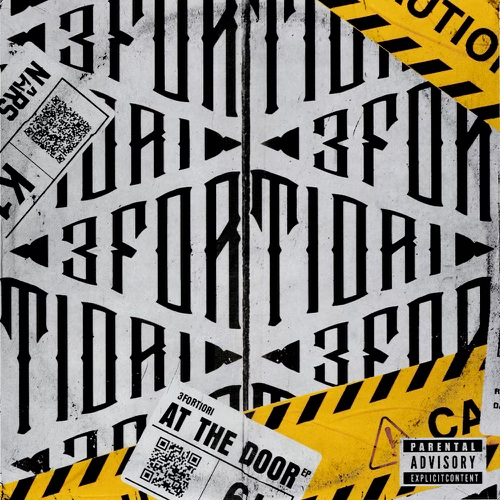 The duo, who has previously put out a mixtape,
Time Tells No Lies
, and an EP, Karma, realizes that this new EP is the evolution of them stepping into a new production light.
Since they started, there has been a gradual progression in quality, aesthetic and creativity, with each new piece of music they've put out, and with At The Door, it's a progression of where they are and where they're trying to take their careers.
View this post on Instagram
Off the new EP, Wyatt's favorite track is "Jump Out The Flame."
That song is his favorite because he remembers hearing the song and feeling like it was a complement to their new production – with the stepping stone into their elevated sound from collaborations with producer, Danja, and engineer, Marcella Araica.
The duo produces their music with Danja, who has worked with Keri Hilson, T-Pain and Usher.
"I'm extremely excited to introduce 3Fortiori to the world," Danja said. "I love their presence, versatility, and contagious energy. I think this [musical] offering is a great first stroke of the paint brush."
They record and mix their music with engineer Marcella Araica, who has also worked with artists such as Meek Mill, Missy Elliott and Timbaland.
Araica believes that they know what they want, and she's happy to help get them there.
"3Fortiori are the dreamers of dreams," Araica said. "They have a clear vision of their artistry and their music and watching their synergy and dynamic when creating is unparalleled."
Though they collaborate with producers for beats and instrumentals, they know they're a big part of the sound creation, too.
"In a lot of ways, I feel like we're producers ourselves, because we know what we want," Wyatt said. "We understand our sound and we're able to communicate that very well to the producers that we work with."
Araica was also with Feek and Wyatt at the Miami Heat game when they performed their new single, "Start Me Up," during halftime.
3Fortiori Perform During Miami Heat Halftime Show
Feek and Wyatt had the opportunity to perform at a Miami Heat game, right when their new single "Start Me Up" launched.
"One of the best things about performing, especially as an up-and-coming artist, is a lot of times you get in front of these crowds and there's a decent amount of people who don't that know who you are…" Wyatt said. "It's my job to get on the stage and put on a show for these people and make them leave knowing who we are."
The duo feels like they did that – they felt a raw, organic reaction from people who have never heard their music before, and seeing people enjoy it with them is still mind blowing to them.
They even portrayed this on their TikTok account.
3Fortiori's TikTok Presence
Aside from their Miami Heat performance, they attribute their organic career growth to their TikTok presence. Feek and Wyatt have 3.5 million followers and more than 95 million likes.
Their most frequently watched videos show the duo presenting funny skits – including Feek thinking he won the lottery and realizing it happened in his dreams, and Feek also showing how confusing ordering coffee at a café can be.
A recent video from their TikTok displayed their performance at the Miami Heat game while interacting with fans. The clip garnered over 17,000 views and highlighted their career evolution.
The caption in the video read: "Went from performing in front of three people to performing at the Miami Heat game."
Through their years of creating music together, this video is representative of them realizing a dream they didn't know they'd get to experience, and they encourage their listeners to follow their dreams, as well.
"This was a dream come true. Took five years but never give up on your dreams, always believe in yourself, you can do it," the TikTok video ended with.